Donald Trump is looking for another apprentice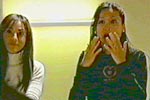 Tammy, an M.B.A. from Seattle, is shocked she survived 8 weeks!




Sixteen challengers from across America used their business skills to survive the streets of New York City and the Board Room decisions of Donald Trump.

Mr. Trump is looking for successful, educated, business minded people with a high drive for success. Your education might be an M.B.A. or from the streets. Are you a Harvard M.B.A. as Kwame was, or a degree from a lesser known school as Bill had? Do you have the entrepreneurial street smarts of several of the other contestants who came close to winning the dream job? Have you succeeded with your Hip Hop Shop in Omaha?

Jodi Rothfield Casting Associates, c.s.a. in Seattle, is casting for Mark Burnett Productions. We found Tammy last year, and she lasted eight weeks. Congratulations Tammy!

Just like last year, there are a few rules. We know that everyone wanting this dream job is busy...time is money. So here are the directions to make your life easy during this audition.

~ You must be a US Citizen
~ You must be over 21 years of age
~ You must be a real person, no career actors please
~ You must be comfortable speaking your mind
~ You must be articulate
~ You must be animated
~ You must be with a strong point-of-view
~ You must be of good humor
~ You must be curious
~ You must be available August 6th for a callback
~ You must be available September, October and early November for the competition

Still with us? So far so good?

Here's the easy part

~ You must be able to click here: and check the calendar for times and dates that your busy schedule will allow a 10-minute audition in our studios

~ You must be able select a date and time you want to come to 1600 Dexter Avenue, Suite A, Seattle, WA 98118

~ You must be able to Sign up/in on our private, no spam, free database at www.WorldPerc.com

~ You must be able to create a profile/resume, print your resume, and bring it to your session on time

~ You must be able to email, not call in, please, as we are busy also, your date, time, your user name and a paragraph why you should be Donald Trump's apprentice to: TheDonald@worldperc.com

~ You must be able to find parking (fairly easy by Seattle standards)

Break a leg!